Found out that the best way to enjoy your  winter experience is to have fun with it, rather than just to struggle with the snow–in the photo above  you'll see a snowshoe family expedition.   Cabot Shores is open 4 seasons each year.    Our guests make the most of winter fun, I've always said since I once lived in Maine, where they have what old timers call "real winters". Last winter on Cape Breton was a doozy. So, looking back and putting aside the unusual amount of cold, snow and snow handling, I remember some brilliant days, moonlit evenings and morning sunrises seen snow shoeing.
That said, many folks believe that last winter seemed to last forever. That may be why it was during late summer that journalist Heather Seftel-Kirk wrote a wonderful article called "Escape to an Unforgettable Winter Experiences at CabotShores." We appreciate the kind words and description of the incredible fun, adventure and beauty that is part of a Cape Breton winter and hope Heather can make it back this winter to Cabot Shores. In the meantime, have a look at Heather's article in the Snow Shoe Magazine.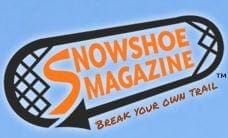 After the snowshoeing, these young women (this time without their mother) enjoyed a cedar ofuro tub outside the Tan Yurt.  In winter, families enjoy the Tan Yurt which has a queen bed, bunk beds, and a love seat in front of a woodstove fire place.  Guest have an option to rent the cedar ofuro tub for a whole evening.  Sitting under the stars, or even with the snow falling, is a great experience no matter the outside temperature.
Another fun winter activite is the infrared sauna.  It is available for 2 to 3 people by appointment.  The dry heat is great after snowshoeing, cross country skiing, skaking or other vigorous, winter activity.