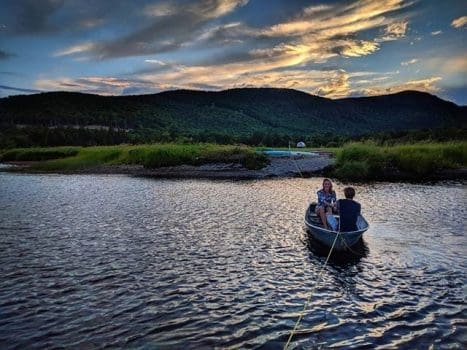 Photo credit: Kyle Denny
The Eagle Feather Ferry  is What Guests Love to Ride
Beloved by guests from 5 to 91, the Eagle Feather Ferry takes you from the end of the apple orchard to Eagle Feather Beach at Cabot Shores…It is one of Cape Breton's shortest ferry rides.
It goes across Church Pond when you pull on a rope, rock and roll across a channel (more current at low tide).  Guests love taking their kids (and dogs) out to Eagle Feather Beach with its colored rocks and the chance to swim in the Atlantic and rinse off in the fresh water of Church Pond.
When we ask guests what they really like to do at Cabot Shores, we get some surprising answers…
You'd think it would be walking into the Great Room of Whiff's Lodge or looking at the ocean from our chalets, yurts, and domes…and these are often mentioned…
…but what a lot of guests says is: "it's the Eagle Feather Ferry" .
.
Whether a 91 year old woman,
or a band of kids,
or those of us in between in age,
there's something magical about crossing the narrow strait of Church Pond and arriving at a long beach on the ocean, which is a natural playground for old and young alike.
Olivia Pare of Montreal is the youngest sailor to go solo on the Eagle Feather Ferry to the beach.  Here is a video link with more on her voyage.
Fall Flooding Sinks the Ferry (but it got rescued…)
While Barbara and Dr. Paul were hiking this fall at Fundy Park, there was serious flooding at Cabot Shores.  The concrete pole holding the Eagle Feather Ferry to land was pulled out of the ground, canoes and kayaks went floating around Church Pond and the Eagle Feather Ferry sunk.
Yoga Instructor, Blaine Carter, and Dr. Paul waded out to the edge of land and saw no sign of the ferry.   Taking a canoe to the beach, they pulled hard on the ropes and gradually the saw the ferry sunk under water, emerging.