Many guests and workers have been planning or deciding on longer term stays at Cabot Shores. There are possibilities for this in Chalets, the Adventure Guest House and even in Whiff's lodge. In addition, our unique lodging options offer comfort and flexibility to refresh, relax, and stay productive when necessary. There are many reasons for booking a longer term stay.
Reasons for a Longer Stay at Cabot Shores
Self isolation

(14 days coming from outside Nova Scotia is required of all returning residents and visitors)
If you have recently been traveling and find yourself required to self-isolate, our resort is a great option. Check out our blog on current packages here!  These packages can be customized, shortening or extending your stay.
Two members of the Cabot Shores family have recently completed self-isolation. Barbara had been visiting our daughter Ruby in London, UK. She was required to self-isolate for two weeks. Luckily, the Red Chalet was available. A few days later in March, Ruby self-isolated in the downstairs of Whiff's lodge.
Being on 55 acres at Cabot Shores during winter and early spring, it is possible to have appropriate social and physical distance. There are many activities to keep you busy and entertained during your stay such as snowshoeing or walking along  Indian Brook  and Church Pond.   Barbara and Dr. Paul actually found some very solitary floating Ice Chunks that looked like tables.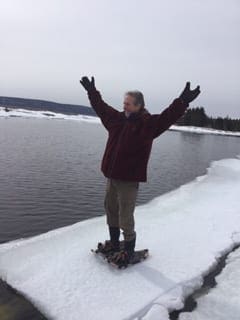 You don't have to stay two weeks, but you can use Cabot Shores as a safe place to practice social distancing. Here you are able to have outdoor adventures, enjoy the invigorating lift of natural beauty out the door, and relax in a comfortable environment indoors.
Learn more about Barbara's experience as she self-isolates at Cabot Shores.
2. Essential Worker Lodging
Individuals in health care, services, and other essential services have been vital to the safety and needs of Nova Scotia. We appreciate those on the front lines.
Longer term lodging for workers is available for these individuals. Explore our accommodation options!
Maintenance crews and engineers serving the power company stay here, eat and use Cabot Shores as a home base. Sometimes they work different shifts than regular staff due to Covid-19, but they are here for ongoing and special projects. Sometimes they prepare their own food in chalets. However, more often they have food prepared either through take out or drop off for heating later at their work site.
Other essential workers, especially Caregivers, including health care workers, mental health and addictions counsellors, social workers and crisis management counsellors can find a space to stay during this time. In addition, design engineers and road crew workers,  folks from fisheries and natural resources, food distribution people, and educators.
3. Workation
Have you been working lately from home or a hotel?  You have an important project and, like many of us, you are working remotely. How about taking some time where you can be uninterrupted by cell phone calls, friends, and family and get that work done?  Or, bring the family and see what they can do during a StayCation. Use our space as your new office among the serenity and peace of Cabot Shores.
You may be "on hold" at your job.  You may want to take the time to discover new opportunities. Are you looking for a place to spend some time outside the four shrinking walls of your apartment or house? You may be in a situation that requires self isolation away from family and friends and would rather take this time to be in nature. Are you looking for a beautiful space to work remotely? Whatever situation you find yourself in, we are here to help you through. Check out or availability or give us a call at 902 929 2584 to talk  about your options.