Barbara and I saw a whole bunch of deer while vacationing in Colorado and while we were away, there were all kinds of stories (and a video) of a moose that's been wandering around Cabot Shores…
Early this  morning I saw that  moose.    Somehow my dog Cosmo missed seeing lady moose and I quickly  escorted Cosmo back to Whiff's Lodge, to avoid a chase.
Ten minutes later, I was surprised to see the moose standing like a statue in exactly the same spot.
Her eyes followed me with each step as I walked toward Church Pond to get  a better view of sunup over the Atlantic and Kelly's mountain. No movement of head or body, she kept her eyes on me.
On the way back from the Pond,  I assured her that she's welcome at Cabot Shores…
I started wondering, what am I doing talking to a moose?  But it seems that talking to animals really works well (especially to the chickens who lay more eggs)…but talking to this lady moose, something was clearly missing.
My friend, Marie France, hearing this story, asked me "what's her name"?   Whose name?   "Well, the moose, of course!"
" I have no idea!"  So Marie France suggested that you may do a better job naming her.
And the person whose name we chose will get a free night night at Cabot Shores' lodge (no obligation to get up early and see the moose!)
You've got her picture above and here's the video I mentioned of her strolling near Whiff's Lodge (you'll hear the sounds of Tyler running to video here, along with Kelly and his young son following its progress,  saying:  "hi moose!"…but still, no name!
Give the moose a name below or write to hospitality@cabotshores.com with subject:  naming the moose!.
Here's the video…Please comment and name the moose!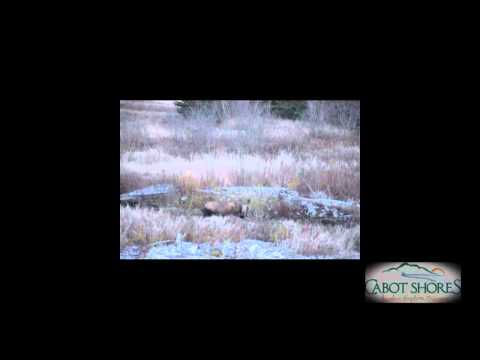 And if you want to see more moose around here, there's another video that you may like, called "Moose Mission".