At Cabot Shores, we consider ourselves and other visitors as  "guests" on Cape Breton–with exception of the native Mi'kmaq who, by accounts, were here first.
Talk to Mi'kmaq elders like Albert or Merdena Marshall or our friend John Henry Lafford and you'll hear that the Mi'kmaq have been here some 10,000 years, way before the Italian–Giovanni Caboto came sailing under the English Flag in the 15th century.  Whether Cabot landed on northern Cape Breton (near what's called "Cabot'sLanding") is not certain.
The Canadian Park system believes he did because there is a wonderful park and beach and bust of John Cabot at Cabot's Landing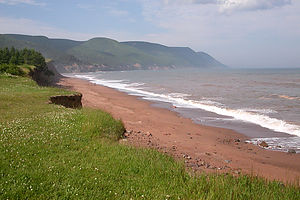 Cabot's Landing in North Cape Breton near village of Sugarloaf
So, although it's far from certain, we go on assumption that Cabot landed here:  we celebrate the Cabot Trail being on it and have named our place "Cabot Shores".
Vikings in Newfoundland
Vikings in fact  landed in Newfoundland and in 1960 physical evidence was discovered by the Norwegian archeologist, Helge Instad.
The site had Norse artifacts similar to those found earlier in Greenland and Island, dating back some 500 years before Cabot andother Europeans landed in North America.  The name of the site in northern Newfoundland is l'Anse aux Meadows" or "Jellfish Cove".
What About Vikings on Cape Breton
No such physical evidence is there now for the Vikings landing on Cape Breton Island, but there is a theory that the Norse sailboats, like the one of the "Knarr" above, actually a reconstruction of a Viking  vessel. The theory is based on oral tradition–of the saga of the "Greenlanders" and the saga of "Eric the Red".  Ken Macleod writes in the September 28th, 2012 edition of the Cape Breton Post of this theory proposed by Steve Voluckis.  Voluckis points out that the Vikings traveled beyond the l"Anse…" site in
Newfoundland and landed on Cape Breton.  There they may have explored the western part of Cape Breton along the Bay of St. Lawrence and even made their way inland, along the Margaree River.
A Cape Breton University  history Professor,  Scott Moir, agrees with the theory about Viking landfall on Cape Breton:
"One of the factors (that leads me to believe that) is the descriptions you get from the sagas," he said. "In the sagas, you read about a headland with two fjords on either side, which is a description of where (the Vikings) buried somebody. From the descriptions in the sagas, that has been variously identified as anywhere from Kelly's Point to Point Aconi and even Point Edward.
All of which brings us back to the question posed by Ken Macleod in his  Cape Breton Post Article…
… "Did Vikings Spend a Winter or Two in Cape Breton" ? …
Meteorologist  Bill Danielson who sees a weather pattern confirming the theory.  As quoted in Macleod's article:
"They certainly must have come right past Cape Breton, because L'Anse aux Meadows is not that far away from here," he said.    "Depending on how you read the sagas, it seems quite likely they were in the Gulf of St. Lawrence.
"So they must have passed Cape Breton along the way and I think they would have landed and checked it out, as they would have done in many other places as well."