Each July is the time for a  Road Scholar Intergenerational Program at Cabot Shores.
Grandparents and Grandkids travel from all over North America to the event, ready of cultural and outdoor adventure, including:
Canoeing and kayaking and stand up paddling (last year Ben S. from Georgia at 84 was a star on the Yolo Board, alongside some grandkids having their own "Yolo" ride on Church Pond with stops behind on the Atlantic beach
Fishing
Hiking and cookouts
Gaelic language and cooking and music
Native first nation Mi kmaq history, crafts, music and cooking
Birding expeditions and tours
Making pizza on outdoor, wood-fired pizza oven
Exploring the beach and swimming in the Atlantic, Church Pond, Indian Brook
Demonstrations by local artisans and music
The experience is better described by a participant (and below in a video).  Here is what a Grandma said about her time on Road Scholar at Cabot Shores–
Like many grandmothers of teenagers I treasure our increasingly rare moments together. Last summer, for a triop we have traditionally taken together over the summer, my Emma chose Cabot Shores Wilderness Retreat on Cape Breton Island in Canada.  Our time there was a beautiful experience for me and her.  She bonded easily with children her age and I did the same with other grandparents.  Our many adventures there on hikes, building memory boxes, taking Gaelic language classes, attending an acoustic concert in a small church with powerful music, canoeing, picniing, walking and playing together will last a lifetime for me.  Our hosts were truly unique and caring.  Each morning began with a zen-like guide and host named Barbara, and a Qi Gong class on a deck overlooking water and mountains.  Once on a hike I feel and our host-proprietor and gjide for that activity, Paul, helped me jp and said, –you okay–No sympathies, no patronizing…just compassion and help.  Take this trip–you will encounter a fast disappearing wilderness and an earlier easier time with your grandchild. (Anne of Florida)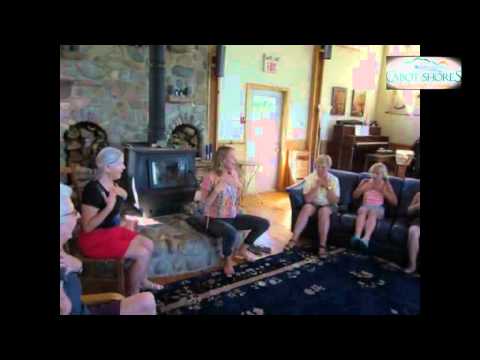 Interested in more info?   Call Cabot Shores at 902 929 2584 to see if meets your schedule…Or go to roadscholar.org or call (800)-454-5768.
You can also see sample Intergen Schedule at cabotshores.com/6038-6038